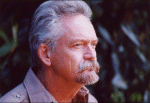 Artist Biography
Tom's obsession with wildlife started as a child exploring the hills of Austin, Texas. As a young man he then gained useful knowledge of taxonomy and anatomy with the Zoological Museum of Zurich, Swiss Foundation of Alpine Research and the International Union for the Conservation of Nature in Switzerland.
Four years working in Africa for the Ethiopian Conservation Organization establishing their national parks and reserves systems cemented his love of wild animals. Inspired by the diversity of life he found in Ethiopia, he returned to Texas in 1975 and began his first sculpture.
Many years later, Tom has produced an inspiring collection of original sculptures. He currently works from his home studio in Perth, Western Australia and travels extensively. Since bronze is such a time-consuming and labour intensive pursuit, he only produces a few originals each year. From these originals, a limited number of castings are made using the Lost Wax process.
Tom has an exceptional ability to portray each species in a natural and authentic manner. Each sculpture is a reflection of time spent in research and painstaking attention to anatomical detail as well as a lifetime of sketching, photographing and observing animals in the wild that has led to a deep empathy with the essence of these magnificent creatures.